From
ESPN
:
Many thought Andy Pettitte should have never left New York. It looks like that issue has been rectified.

Pettitte

The left-hander and the Yankees have reached an agreement on a one-year deal that will pay him $16 million in 2007 with a player option for 2008, sources close to the negotiations told ESPN The Magazine's Buster Olney on Friday.

The player option for 2008 is also at $16 million. Pettitte must pass a physical for the agreement to be finalized.
Let me be somewhat realistic for a second: Pettitte's a tough dude who can pitch pretty good even
with
elbow pain... but he's getting old, and 16 million is quite a bit, overpassing the Astro's rumored 10 million a year deal...
But enough about that: A couple of million is a price to pay to rectify a terrible mistake and to bring back a fan favorite, enough said...
I'm very excited for this, but what bout Clemens? Will he join his best friend on the Yankees? Does Clemens
still
wanna win a World Series? Will he make the commitment?
Time will tell, and of course, it will be reported...
Yankee fans everywhere, drink and be merry, for tomorrow... we'll... uh... still be
happy?!?!?
:-D!
Happy reading... and rejoicing!
B(rent)
******************
P.S.: Join my campaign to elect Craig Wilson as our right-handed 1st baseman! :-P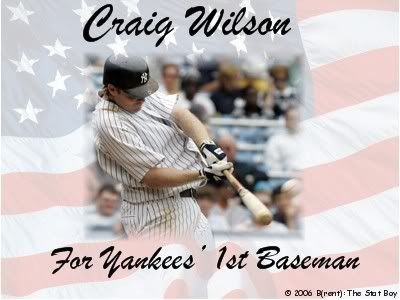 ^ Thank you
Nomaas
for the inspiration from a year ago with their Kevin Thompson for 4th Outfielder campaign... :-)