These hiatuses will probably only happen during the weekends and maybe, through midterms/final exams/big days with HW... but that's understandable, right?
Hmm, to go a bit off-topic, I sent my blog and my notice to the Sports editor for my school's local newspaper, and I still haven't gotten a reply back... now, I have no desire to bitch and complain about wanting to get on the newspaper, but the newspaper's known for not being responsive...
Clearly, I find it irresponsible not to get a reply back... but meh, if I don't get anything, it's, more or less, their loss and I move on...
Expect a Yankees Empire post from Thursday's game today along with my thoughts on the Boston series, and tonight's game, with the magic number being...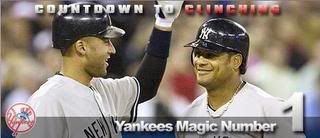 1!
Happy reading!
B(rent)