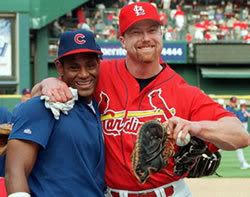 588 HRs, 7 All-Star appearances, 6 Silver Sluggers, and
his numbers
compare to these Hall of Famers (and future Hall of Famers):
However, in a matter of 3 years, one corked bat, one "extremely violent sneeze", one "no speak Ingles" speech in Congress, and one off-season
supposedly
to rid his body of steroids (which promptly lead him to hit .221 and 14 HRs for the Orioles) later, Sammy Sosa is in the middle of a mess that he mostly created through his mistakes.
A player with 588 HRs in the times of yesteryear would be inducted in the Hall of Fame without any shadow of a doubt. However, with the cloud hovering over the Steroid Era of baseball, players like Barry Bonds and Sammy Sosa had their Hall of Fame aspirations crushed just a little bit with Mark McGwire's 1st year rejection into the Hall of Fame this week. Many baseball analysts have offered suggestions on how McGwire should repair his image in baseball. Some offered a suggestion of a public apology. Some suggested that he does nothing. Some even suggest that McGwire does not follow Barry Bonds' guide on "How To Deal with Steroid Allegations".
Due to the 1998 Chasing-Maris Home Run chase, Sammy Sosa will always be tied to Mark McGwire in baseball history. However, their
abysmal speeches
in front of Congress also tie them together in the steroids controversy. Sosa's massive drop in HRs, Batting Average, and OPS from 2001 to 2005 also illustrate the increased wear-and-tear effects that improper use of steroids can provide on the human body. Because of the connections and his alleged use of steroids, Sammy Sosa's image in baseball is as stained as McGwire's image. If Sammy Sosa does not play another game in the MLB, he will be up for induction to the Baseball Hall of Fame in 2011.
Though Sosa wants to play in the MLB, there have been no rumors about any MLB team being interested in him. Notice the initials
MLB
in the last sentence. According to an article in the Sunday's
Japan Times
, the Yokohoma BayStars are interested in acquiring Sammy Sosa on a one year, 4.2 million dollar contract. Converted to yen, Sammy Sosa would be paid 500 million yen. Basically, Sammy Sosa will be paid his salary from the mid-1990s (1995: $4.3 million) to play one full year in the Japanese League.
According to the
Japan Baseball Daily
, an unnamed official from the BayStars have denied the Sosa offer to the point of calling out Sosa's agent, stating that the agent was trying to "perpetrate fraud" on the BayStars' organization. Whether the offer was made or not, the Sammy Sosa Japanese League offer brings up a very interesting thought. It's an interesting thought that has been brought to the forefront because of one man: David Beckham.
Not unlike Pelé and Beckenbauer with the Cosmos, David Beckham will be joining the LA Galaxy in the MLS for 5 yrs/up to 250 million dollars. The choice of the LA Galaxy was a very deliberate decision by Beckham for two reasons: fame and money.
Beckham is arguably the most marketable soccer player with a movie named after him ('
Bend It Like Beckham
', good movie, I must say). What does Los Angeles have that no other team (not even the New York Red Bulls) have? Hollywood. The Stars of Fame. The lights. The celebrities. Movies. Any need to continue? Beckham will instantly be immersed into the Hollywood crowd. The man will be wining and dining with the Hollywood crowd. The only difference is that he won't have to do it across the Atlantic Ocean.
There have been questions made about Beckham's health and whether he is "over the hill" at age 31. However, to think that a league signing arguably the most marketable soccer player world-wide is a bad move is illogical, at best. David Beckham will get his fame and money from the MLS and being amongst the celebrities in Hollywood. The MLS will sell out games and increase recognition across the world and amongst American and non-American soccer players worldwide.
Why do I bring Beckham up? The one thing I have seen in my lifetime is the influence American culture has on world-wide culture, especially in Japan. As the years go on, the trade-off of American and Japanese culture has been huge. Americans are becoming immersed in anime, Japanese import video games, and the popular launch and sale of the Wii. The Japanese have immersed themselves into American culture on the lines of music, advertisements, food, and yes, baseball.
I'm not bringing up baseball to bring up the American examples of Ichiro and Hideki Matsui's success here, though Alfonso Soriano and Cecil Fielder are the best examples you can make for that. I'm talking about the reverse: bringing an American at the end of his career to Japan to play baseball. Sprinkled in Japanese baseball are the Benny Agbayanis and Andy Sheets of the baseball world: mediocre players who are trying to make a name in Japanese baseball. Suggesting that Sammy Sosa should play Japanese baseball isn't grouping him in the same category as Benny Agbayani and Andy Sheets because, steroids or not, Sammy Sosa had a career that was better than mediocre on all accounts.
Sammy Sosa playing Japanese baseball would be the best move for him for two reasons:
1. Fame and money: Two words - Bob Sapp. A man who failed numerous steroid tests in the NFL got a new start in Japan. He got so much of a start that he has done numerous advertisements and have appeared on many Japanese TV shows. His fame has gotten to the point where he released a CD! To have enough fame to release a CD based on your name is Shaq-like! I would say Paris-Hilton-like, but Shaq and Sapp had to
earn
their fame. Sapp has achieved enough fame and money in Japan to come back to the United States and appear on
Real Sports
as well as the movie remake "The Longest Yard."
What does Bob Sapp's example have to do with Sammy Sosa? The unnamed official from the BayStars does not have an idea what he is talking about. It would seem hypocritical in the least bit for an entire country to embrace Bob Sapp, though he has been a proven ex-steroid user, and yet, shun Sammy Sosa. It seems ridiclous for an unnamed official from the BayStars speaks for the entire country of Japan. If Sammy Sosa wanted to go to Japan, a Japanese team would be more than happy to sign him.
Sammy's a likable guy. He has that million-dollar smile and Hispanic charm that got America to love him in 1998 during the Maris Chase. The media friendly charms and whims that Sammy Sosa processes can be used to perfection in Japan. If he played his cards right, Sammy could be as big of a name as Bob Sapp. He's got the charm, the stats, and the stature that can captivate Japanese audiences with his bat and he can make lots of money as well.
However, Sosa has one goal and one goal only. What he may not know is that he may have a better shot at achieving that goal in Japan.
2. Sammy's goal - a possible second shot at the MLB: Excluding Julio Franco (because the man's godly with his endurance), let's look at 2 mini-success stories of players who have played in the MLB, went to Japan, and got back into the MLB: Tony Batista and Eduardo Perez.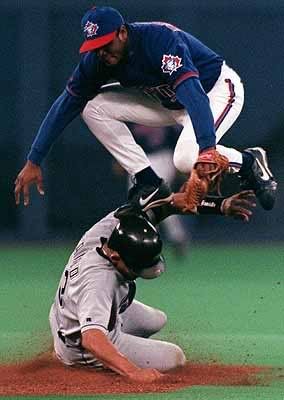 Tony Batista
: The link that is provided in his name is a clip of him scaring the crap out of a Japanese pitcher after he got hit with the pitch. Apparently, hitting .263 with 27 HRs and 90 RBIs scared enough Japanese pitchers for a major league team to take a second look at him and bring him back. The Twins signed Tony Batista in March of 2006 for a 2nd MLB campaign. Though he got released again after going .236 with 5 HRs and 21 RBIs in 178 At-Bats, he got the second shot he wanted and earned.
Eduardo Perez
: The hit-by-pitch object of Randy Johnson's small rise to Yankee pinstripes last year, Perez took a year off in 2001 from the MLB to try his hand in the Japanese League and to earn a consistent starting role in the majors. His stats in Japan were terrible, to say the least: .222 with 3 HRs and 19 RBIs in 52 games and 167 At-bats, but he got more consistent play in 2002 and 2003 on the St. Louis Cardinals. He has had an up-and-down career, but he viewed Japanese baseball as a solution, a solution Sammy Sosa should take on.
Do I think Sammy Sosa should play in Japan for a year? Absolutely. Will he? I don't think he will. He is too stubborn to accept that no major league team will take him at this point. If he can prove to play healthy and to put up good numbers in Japan, he can open some of those teams' eyes. At this point, however, he is viewed as opening more Big Macs and Whoppers than the eyes of the MLB.
Sammy, listen to me: go to Japan. Make some money. Get some fame. Hit some home runs. This may be your last shot, Sammy. Go to Japan and get yourself back to the MLB. Heck, it may help you when the Hall of Fame is considered. Just... don't goof up in Japan and go
Joe Pepitone
on us, ok?
Happy reading!
B(rent)